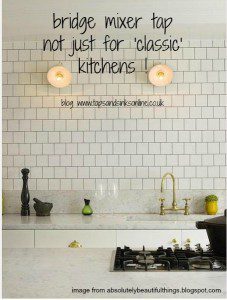 Traditionally a bridge mixer tap was paired with a belfast (farmhouse) ceramic sink.

Recently the bridge mixer tap is also being used in all styles of kitchens, both classic and contemporary.

Bridge Mixer Taps with Adjustable feet: The standard / usual spacing between two pre-drilled tap holes is 180mm but where this space is not exactly 180mm then you would need adjustable feet.  (Ceramic sinks by their nature tend to be inexact in their measurements due to the way they are fired in a kiln. And while most modern ceramic sinks are fairly exact, usually there is a tolerance of+ / – 2.5% in the measurements and this might or might not be an issue when fitting a bridge mixer tap).

With the adjustable feet you have 2 options:

Carron Phoenix Atholl with cross head (capstan) handles

or the Carron Phoenix Barra with levers instead of handles.

But see below 'Water Pressure' as the Barra Lever handles with 1/4 turn valves requires more water pressure than the Atholl (compression valves) and this might dictate which tap with adjustable feet you must select.

If adjustable feet are not a prerequisite then you can add the ornate Tuscany tap into the mix as well!

The Tuscany offers you three colour choices:

Chrome,

Brushed Steel (also known as Brushed Nickel or Pewter)

and Antique Bronze

and has a distinctive ornate spout.  The brushed nickel finish in this tap is one of my personal favourites for pairing with a belfast sink but it really depends on the rest of the kitchen as well.  When taking into account all the other features in the kitchen you might want to have a statement tap in all its ornate glory or you might have a more contemporary (pared back, simpler look) kitchen, and then a simpler bridge mixer tap might look more appropriate.

Water Pressure:

The other important element in any kitchen tap that should always be considered in parallel to your budget / style is water pressure.

If you have low water pressure on your hot water side of your kitchen tap (e.g. you live in a bungalow perhaps) or just have it for some other reason, then we would always recommend a tap that uses a compression valve

e.g. the Tuscany or  The Atholl  (0.3 bar minium ) .

The Barra, having 1/4 turn spindles (valves) would require a higher water pressure (0.5bar and above).

Most houses don't have an issue with water pressure but if in doubt then email us or ask a qualified plumber to check it for you.

Also see our blog here about guide to water pressure:https://www.tapsandsinksonline.co.uk/low-hot-water-pressure-from-your-kitchen-tap/

If you would like to buy one of these taps or take a closer look, here are the links:

If you want to see a selection of kitchens that have a bridge mixer tap (both classic and contemporary) then check out my pinterest board here.

If you require any further information on these kitchen taps, or any other product in our store, please contact us at sales@tapsandsinksonline.co.uk

Why buy from us? We are a specialist online store that stocks a selected range of products that we can provide all the technical information on and troubleshoot any problems associated with (no matter how old). We have been selling the Carron Phoenix range for 30 years and San Marco Kitchen Taps for 20 years. Not only do we stock the spare parts but our technical department can troubleshoot most problems for you – no matter how old or new your kitchen tap is. Excellent After Sales Service is an intrinsic part of our Customer Care ethos.
.