Triflow Corinthian Tap Parts
Showing all 3 results
See underneath Tap Parts Description to see / buy Tap Parts for Franke Triflow Corinthian Kitchen Tap – Discontinued Spring 2011 (and not the Franke Filterflow Corinthian Kitchen Tap which takes different Tap Parts and can be found here).
Valve: Tap dripping from the Spout ? See here – Guide to changing Valve.
Brass Bush: Part surrounding the valve. More info here.
O Rings: Tap dripping where the spout meets the base of the Tap? Guide here.
Aerator: Found at the tip of the spout.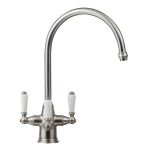 For solutions to common problems, remember to check our Helpful Tips Section