Triflow Olympus Tap Parts
Showing all 2 results
The Franke Triflow version of the same / similar Tap takes a different Valve than the Franke Filter Flow version even though the Taps might look the same. If you are replacing the Valve on your Franke Triflow / Filter Flow Kitchen Tap then you need to establish whether your Franke Tap is a TRIFLOW or a Filter Flow. The TRIFLOW version preceded the Filter Flow version.
Triflow Olympus – Discontinued: Spring 2011 – Perrin and Rowe, Triflow or Avillion might be stamped on the Valve.
If San Marco is stamped on the Valve, then you have the Filter Flow version.
PLEASE NOTE – If you don't know which Franke Triflow or Franke Filter Flow Tap you have, then email us at sales@tapsandsinksonline.co.uk with a picture of your tap, a picture of the Valve if you have removed it from your tap, details of any markings on it and we will tell you which Valve you need to purchase.
See underneath Tap Parts Description to see / buy Tap Parts for Franke Triflow Olympus Kitchen Tap.
Valve: Tap dripping from the Spout ? Guide to changing Valve here.
Brass Bush: Part surrounding the valve. More info here.
O Rings: Tap dripping where the spout meets the base of the Tap? Guide here.
Aerator: Found at the tip of the spout.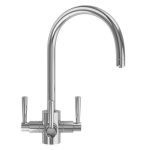 For solutions to common problems, remember to check our Helpful Tips Section