Description
Franke Olympus Bush with Recess SP3868
Measurements: 3868R Brass Bush
Outside Diameter: 29mm
Inside Diameter: 19mm
Viewed Height on Tap: 14mm
Overall Height: 20mm
The Franke Olympus Bush for Valve SP3868 might be required if fitting new valve and the existing brass bush can not be separated from the old valve that is being replaced. If you can remove the existing valve without removing the brass bush then you might not require this spare part, or if the leak stops just by replacing the Valve, then you can return the Brass bush for a refund.
It can be a common enough problem that when you remove your Kitchen Tap Valve it looks different than the valve in the picture (or the Valve that you purchased from us). It is most likely because the brass bush is still attached.
Here is the Franke Olympus Valve
Here is the same Valve stuck inside the Brass Bush
If the Valve is stuck inside the Brass Bush then you will have to separate them OR buy a Brass Bush as well.
For tips on how to separate a Valve from a Brass Bush, see here.
Please note that there are two earlier versions of the Olympus Brass Bush. We also stock the version with a lip SP3886 but not the earlier one again which has a narrower lip.  This is the version that we stock: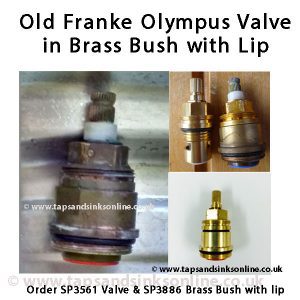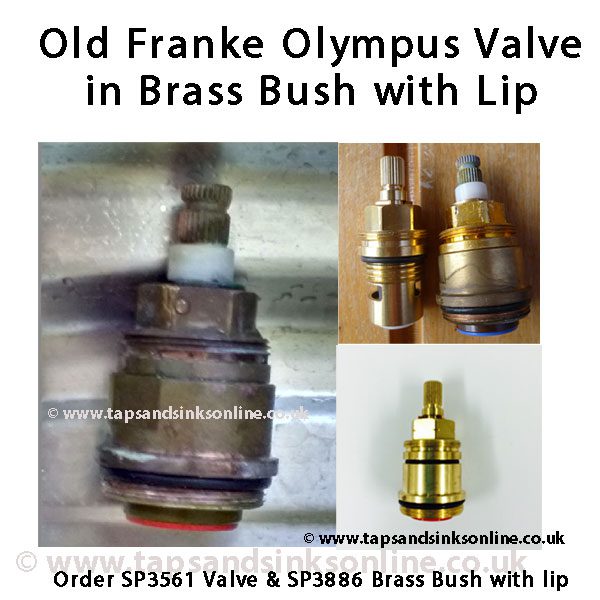 that we do not stock. See here for a picture of what the old brass bush looks like:
This is a Genuine Spare Part.
---
Detailed Shipping / Returns information can be found here.
In Brief:
Small items only by Post:
£2/£3
Courier Delivery DPD Track & Trace:
£5
BREXIT: No additional charges on delivery once your Order before shipping charges is less than £135.