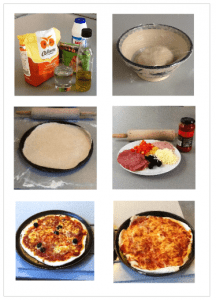 This is one pizza recipe that always gives great results. The beauty of it, for a working mum like me, is that nearly all the ingredients are 'store cupboard' ingredients. You can make it as healthy as you want, depending on your choice of toppings, and there are no hydrogenated fats.
Of course each pizza can also be tailored to match the eater's tastes (very important in this house!). I love cheese, it's my downfall especially on holidays, but for years my eldest son has had an aversion to it. All those suggested methods (e.g. keep putting it on his plate and eventually he will try it were useless) but the fact that cheese is on pizzas was the Eureka moment about 6 months ago. Yesterday he actually 'allowed' me put some cheese in his toasted ham sandwiches! Now if I could just get him to accept that the same tomatoe base that I put on his pizza is the same one I add into Bolognese sauce…
Tip: Make two lots of dough and put one in the freezer for another day.
The approx cost is £6 for 3 of 12" pizzas that I make from quantities below – cost is based on quantities used. Depending on portion sizes that you buy you might have leftovers. I tend to eat half the black olives as I am assembling the pizza but that's all part of the fun. You could freeze any left over tomato sauce or use the following day on some pasta for a quick lunch.
For the pizza base (which will make 3 thin 12" pizza bases. More than enough for a family of 4!)
Equipment
Rolling pin (or something that will do… a bottle if all else fails!)
Sieve
Measuring spoons – a good investment
Cup
Weighing scales
Large Bowl
Cling film / large plastic bag to allow dough to double in size.
Toppings
Small jar of Pasta / Bolognese sauce – don't make, not worth the hassle! Buy a nice one.
Grated Mozzarella cheese – 275g at least.
Other topping ideas
Black olives
Pepperoni / Chorizo / Ham slices – torn into pieces
Sweet corn
Chopped peppers
Mushrooms
Pineapple chunks
Quick method using as few bowls as possible
Tip: To save on the washing up / time: place the bowl on the measuring scales, place sieve across it and then bring the weight back to zero. Now start weighing whilst pouring in your ingredients so one bowl is only required from start to finish.
Weigh in the flour on top of sieve until it comes to 425g.
Add in the ½ teaspoon of salt, sachet of yeast, 2 tablespoons of olive oil.
Gradually add in the warm water. If it becomes too wet just add in more flour.
Knead the dough with your fist and cover it with cling film and put in a warm place where the dough will 'prove' (double in size).
When the dough has doubled you can roll it out or leave in fridge or freezer.
Turn on the oven now – approx 190 fan oven.
Tear the dough into the amount of pizzas you want to make – depending on the size of your baking trays, and roll to the size and shape that you want.
Spread the tomato sauce over the base – and start adding the rest of your toppings.
Pizzas should take approx 15mins to cook in 190 fan oven.
Master Chef marks (i.e. my 10year old son)
9 out of 10 for taste but only 4 for presentation as I didn't trim the sides of the pizza!
If anyone makes it let me know how it went !
~Wise Owl