Description
4876 Titan 3 Hole Tap with C Spout and Rinse Tap Valve
Order 9.13145 if your Cold Side is dripping (this Valve opens Clockwise).
Order 9.13146 if your Hot Side is dripping (this Valve opens Anti-Clockwise).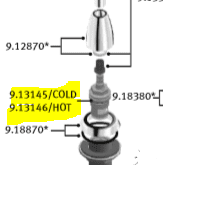 Valve Measurements
Overall Height: 53mm
Nut Height: 5mm
Diameter at thread: 21mm
No of Splines (teeth at top): 20
Height of Splines: 12mm (with vernier)
Height of Splines: 10mm (without vernier)
Detailed Shipping / Returns information can be found here.
In Brief:
- Small items only by Post: £2/£3
- Courier Delivery DPD Track & Trace: £5
- BREXIT: No additional charges on delivery once your Order before shipping charges is less than £135.