Description
Bluci Vartello Tap Handle Part 1248R
Spare Tap Part 1248R available in four different finishes. When selecting the finish please also select whether you want the Hot or Cold Indicator to be as the written word .e.g 'Hot / Cold' or in Letter form 'e.g. H or C.
Other Bluci Vartello Tap Spares available
Please note that earlier versions of this handle are more round and later versions are flatter at the tips.
While the same product code 1248R has been used on installation guides
whether the handle is rounded OR flat tipped
, we are using the code 3701R for the 'round' version of this handle, and 1248R for the later version of this handle with the flatter style tips to distinguish both styles. The earlier 'rounder tip' style version is only available in Chrome and Brushed Nickel.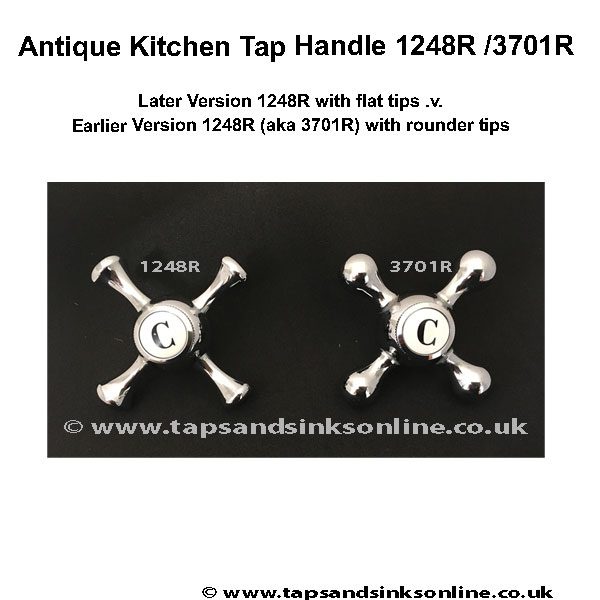 All our Spare Parts are Genuine Spare Parts sourced directly from the manufacturer of your Product.
Please note that parts might be modified by the manufacturers over the years of a product being made as part of their continual improvements. We have put up the actual part number from the manufacturer so that you can check against your technical specifications sheets provided by the manufacturers when you originally purchased your product. If you no longer have your technical specification sheet we have also put up measurements or pictures, where appropriate, for you to check against your own spare part that you wish to replace. We can not always guarantee that a part will fit an older version of a product. All spare parts that do not fit can be returned for a refund but we do not refund associated postage costs.
Shipping Information
Please allow for delays over the Christmas Period so normal shipping times will not apply. For shipping charges of £4.50, shipping will take approximately 3-4 working days following date of dispatch, Track and Trace (no signature required).
Full details of our Shipping / Returns policy can be found here.