Description
Franke Helena Tap Handle (for Helena Tap with a quarter turn valve)
The Valve details that Helena Tap Handle  1261R handle fits on to:
| | | | | | |
| --- | --- | --- | --- | --- | --- |
| 3984R valve (old code was 1212R valve) | | 50mm lenght | 21mm diameter at thread | 20 splines | 8mm nut height |
At least two different handles were used in the production of this Tap.  Here are the details of the two handles that we have: 1261R and 4028R.  There is a very small difference between the two versions which is irrelevant if ordering a pair of new handles, but will make a small difference visually if only replacing one.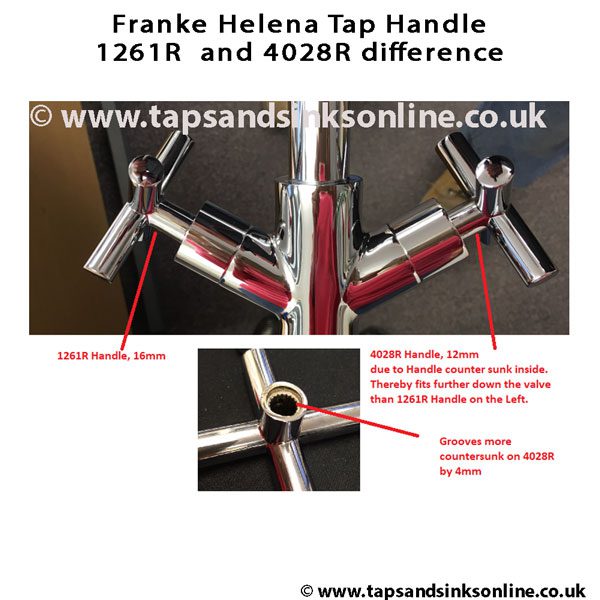 Please note that we try and supply as much information as possible to assist our customers in ordering the correct parts. If you order a part and it does not fit etc you can return for a refund as manufacturers do modify taps occassionally over the years of a Tap being in production.
Detailed Shipping / Returns information can be found here.
In Brief:
- Small items only by Post: £2/£3
- Courier Delivery DPD Track & Trace: £5
- BREXIT: No additional charges on delivery once your Order before shipping charges is less than £135.
If you have any questions please don't hesitate to get in touch with us. With 30 years experience in supplying sinks and taps, and the accompanying spare parts to the UK market, we consider ourselves to be experts in this field. Any queries received will be answered as quickly as we possibly can in as clear a manner as possible.
Like us on Facebook and follow us on Twitter for updates on new products and promotions. If you like this item, why not share it with your friends on Facebook.