Description
Rangemaster Belfast Traditional Tap TBL1 Valve
SMR Ceramic Disc Valve 24 Splines 1265R
Overall height: 48mm
Nut Height: 7mm
Diameter at thread: 21mm
Splines: 24
Height of Splines: 5mm
SMR Ceramic Disc Valve 20 Splines 1212R
Overall height: 50mm
Nut Height: 8mm
Diameter at thread: 21mm
Splines: 20
Height of Splines: 8mm
SMR Ceramic Disc Valve 28 Splines 3561R
Overall height: 53mm
Nut Height: 8mm
Diameter at thread: 21mm
Splines: 28
Height of Splines: 10mm
If your Tap is dripping from the Spout then you might need to change your Valves.  Here is our Guide 7 Easy Steps to replace Kitchen Tap Valve.
Please note that there is another Rangemaster Bridge Mixer Tap, TBL3 which has more modern style handles and longer legs and takes a different Valve. To illustrate the difference so that you do not order a Valve for the wrong Belfast Tap:
Here is the Rangemaster Belfast Traditional Tap TBL1 (note the shorter legs and the handles are more 'antique' in style. This is the Valve that you would be ordering here (taking 28 splines / 53mm tall).
Here is a close up of the Traditional Belfast Bridge Mixer Tap TBL3 (note the longer legs and the more modern handles which are available in the Chrome finish in Chrome, White or Black, and if you have this Tap, then you need to order your Valves here.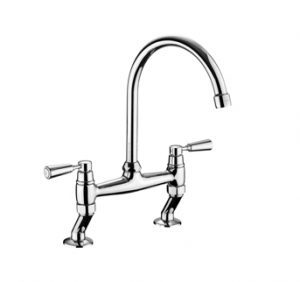 Bridge lever valves with CO AND ACO Symbols
A Cold Valve opens Anti-clockwise (ACO) and a Hot Valve opens Clockwise (CO).
A two lever tap usually has two valves known as 'Hot' (CO) and 'Cold'(ACO).
The Cold (ACO) Valve can have a blue indicator underneath (but not always). Sometimes it can be white.
The Hot (CO) Valve can have a red indicator underneath (but not always). Sometimes it can be white.
BUT the Hot (CO) Valve USUALLY has a nick on every side of the nut to distinguish it from the Cold Valve of the same measurements / specifications.
If you need to replace the Valve for the Cold Water Feed (on the right hand side) you will need to order a standard Hot Valve for the right hand side of your tap as you have to turn your lever Clockwise (towards the centre of the Tap) to turn on (open) the Valve i.e. Clockwise, which is a 'Hot' Valve. The reverse holds for the Hot Water side i.e a Valve that turns Anti-Clockwise i.e a 'Cold' Valve. This is as per the Installation Guide excerpt above.
Parts might be modified by the manufacturers as part of their continual improvements.

We cannot always guarantee that a part will fit an older version of a product. All spare parts that do not fit can be returned for a refund excluding shipping costs.
Shipping Information : Please allow for Delays outside our control due to Covid-19 - (in Brief - see links below for more detailed information is our Normal Shipping Times if not delays).
Spares Parts: For Mainland UK / N.I and ROI, Minimum of £4.50 to maximum of £6.00 with DPD 2-3 working days. For UK Offshore Islands, please email us sales@tapsandsinksonline.co.uk, as there is an additional surcharge. Click here for more information about all Shipping here.
Please also note that these shipping times apply to Mainland UK, NI and ROI Only. Please refer to our Shipping / Returns section for other destinations.