Description
The San Marco Antique Kitchen Tap Spout 3648R (1299R)
Why are our Spouts 'on Sale'? All our Spouts are Brand New, sourced directly from Your Tap manufacturer. We also inspect every Spout before shipping to ensure that the product is perfect. However, on very rare occasions a New Spout might have a tiny mark missed by the manufacturer and our checkers. That is why they are on Sale. To compensate for this, in case it might happen, we have discounted our spouts by 15% to 20% off the full RRP, if you decide to buy one here. Below is an example of what we mean and while the image shows a mark on a stainless steel spout, it could equally apply to a chrome spout.
Due to the time spent inspecting & wrapping spouts, your order might be shipped a day later than normal if stores are very busy.
Please note that in buying this Product you will get a new Replacement Spout Only i.e. it is not a complete new Tap.
The 1299R Kitchen Spout.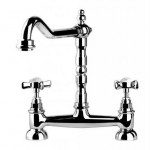 The shipping charge is £6. Your item will be sent by DPD Track and Trace (SIGNATURE REQUIRED) which takes Approx 2 working days from the day following dispatch day.
Please note that these shipping times apply to Mainland UK / ROI & N.I. Only. Please refer to our Shipping / Returns section for other destinations.
Full details of our Shipping / Returns policy can be found here.