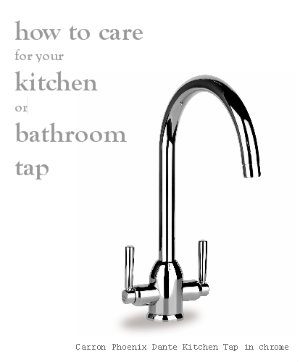 Now that you have purchased your sparkly new kitchen mixer taps or bathroom mixer taps, you want to ensure that it continues to look as good as new! Like us all, Wise Owl believes in giving your mixer tap a little bit of care and love on a regular basis and it will reward you by looking nice every time you use it!
HOW TO CARE FOR YOUR KITCHEN MIXER TAPS OR BATHROOM MIXER TAPS
To clean, wipe with a soft soapy sponge, then rinse and wipe dry.
Do not use abrasive cleaners, scouring pads, powders or wire wool to clean the tap or let paint stripper or chemical desalting agents come into contact with it.
Limescale:
If you live in a hard water area, limescale may build up around the spout of your mixer tap. Clean this off with either vinegar (acetic acid) or lemon juice. Do not attempt to remove this with a knife or any other sharp element, as this will damage the surface finish. If limescale is a problem then you might need to consider a water softener like Aquabion.
Limescale not only discolours your mixer taps and damages your kettle, but will also damage your boiler, washing machine, electric shower etc. in your home, costing you a fortune in replacing appliances & higher heating bills if left unchecked.
If you have any other queries or problems with your mixer taps, email our help department at sales@tapsandsinksonline.co.uk and we will suggest some solutions.