Opus with Ceramic Handles Tap Parts
Showing all 6 results
See underneath Tap Parts Description to see / buy Tap Parts for Carron Phoenix Opus with White Ceramic Handles Kitchen Tap.
Valve: Tap dripping from the Spout ? Guide to changing Valve here.
Brass Bush: Part surrounding the valve. More info here.
O Rings: Tap dripping where the spout meets the base of the Tap? Guide here.
Aerator: Found at the tip of the spout.
Some of the parts for the Opus Tap in Chrome, Brushed Nickel or Coloured Granite effect' are different and the complete list of the spare parts available for these Opus Taps can be found here.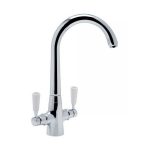 For solutions to common problems, remember to check our Helpful Tips Section