Description
Franke Olympus Tap Spout
The Franke Olympus Tap Spout is available in a Chrome or Silk Steel (Brushed) Finish. Please read the details below if you have an earlier Spout (Installation Guide Part listed as 3218R). Later Installation Guides have part listed as SP3926. If your Installation Guide lists Part SP3926 then you do not need to check the measurements of your own Spout.
The pictures below of the O Ring Kit on the website show the Current O Ring Kit layout with 4 O Rings i.e One large white split PTFE O Ring, 2 Black Rubber Rings and One Small White PTFE Ring that is closest to the base of the Spout.  It measures approx 27.9mm from the largest White O Ring to the tip of the Spout.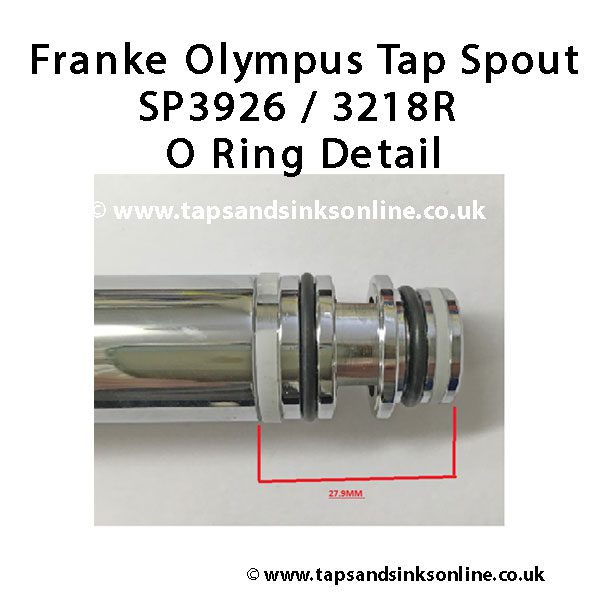 Earlier Spouts are shorter in length as they only had 3 O Rings.  It is only in later years that the manufacturer added the smaller White PTFE O Ring for stability.  This will not be an issue for you.
However, there is an earlier version of this Spout with 4 O Rings, but only c.25mm in length  but it also has a narrow protruding lip underneath the small White PTFE (there is a picture below showing this Spout (marked with an X) . We do NOT stock this Spout.
So how will you know which Spout you have ? You can check the pictures here and compare to your own before buying.  If your spout is c. 25mm from the start of the Largest White PTFE to the base and has FOUR O Rings, we do NOT have this Spout. (Spout marked with an X).  If your spout has only 3 O Rings, and of course, is the model of Tap here, then you can order the later (current) Spout version with 4 Rings and it will fit.
You might need to apply some pressure to push down the Spout and make sure that the gap in the white ptfe o ring aligns with the grub screw hole when inserting the new spout.
If you only require the O Ring Kit i.e. your Tap is dripping from the Base, and do not need to replace the complete spout, you can buy the Franke Olympus O Ring Kit here.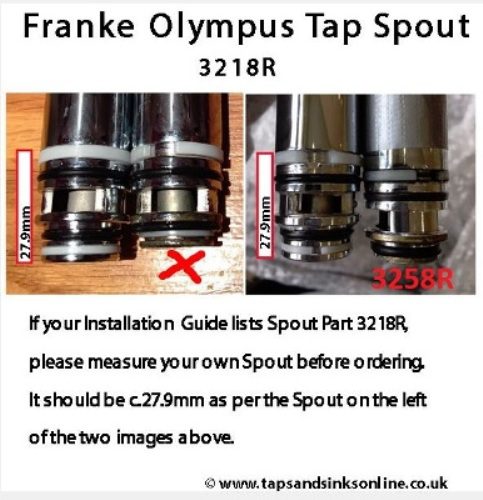 Why are our Spouts 'on Sale' ? All our Spouts are Brand New, sourced directly from Your Tap manufacturer. They are not seconds. We also inspect every Spout before shipping to ensure that the product is perfect. However, on very rare occasions a New Spout might have a tiny mark missed by the manufacturer and our checkers. To compensate for this, in case it might happen, we have discounted our spouts by 15% to 20% off the full RRP, if you decide to buy one here. Below is an example of what we mean and while the image shows a mark on a stainless steel spout, it could equally apply to a chrome spout.
Due to the time spent inspecting & wrapping spouts, your order might be shipped a day later than normal if stores are very busy.
.
This is a Genuine Spare Part.
Parts might be modified by the manufacturers as part of their continual improvements. We cannot always guarantee that a part will fit an older version of a product. All spare parts that do not fit can be returned for a refund excluding shipping costs.
Shipping Information:
We ship from Ireland. DPD have notified us that they are experiencing shipping delays in GB due to Brexit (Customs). They currently advise us that these delays are temporary. However, as per the Large Popup notice on our website that is there until you Dismiss it, you should allow a minimum of 1-2 weeks delays for your order to be cleared by customs. This backlog is due to the volume of goods now going to /from GB that have to go through Customs from January 1, 2021 due to Brexit. It is outside of our control. (There will be no extra or hidden charges with your order).
We intend that Brexit will have no financial impact on our customers.
For further details please see our Brexit section here.
Spares Parts: For Mainland GB / N.I and ROI, Minimum of £4.50 to maximum of £6.00 with DPD 2-3 working days (excluding the impact of Covid-19/Brexit Transition). Click here for more detailed information about all Shipping & Returns.
For UK Offshore Islands:
We apologise for any inconvenience but we are currently only shipping to England, Scotland, Wales, NI and ROI, excluding any Isles.
We are currently not shipping to Channel Islands, Isle of Man or any Isles.