Description
Franke Olympus Tap Spout
The Franke Olympus Tap Spout is available in a Chrome or Silk Steel (Brushed) Finish. Please read the details below if you have an earlier Spout (Installation Guide Part listed as 3218R). Later Installation Guides have part listed as SP3926. If your Installation Guide lists Part SP3926 then you do not need to check the measurements of your own Spout.
The pictures below of the O Ring Kit on the website show the O Ring Kit layout.
If you only require the O Ring Kit i.e. your Tap is dripping from the Base, and do not need to replace the complete spout, you can buy the Franke Olympus O Ring Kit here.
If you need to replace the entire Spout, and your own Installation Guide specifies 3218R Part, then we recommend that you remove your own Spout (see DIY Guide below) to take a measurement of your own Spout from the start of the groove / indentation of the largest white PTF O Ring to the very end of your Spout. It should measure c.27.9mm.
However, If your own Spout measures differently – shorter (see images below), then the Olympus Spout here might not fit your Tap. We have had only 2 customers with older / different versions of the 3218R spout and unfortunately this version has been discontinued. If you have this different Spout please email us sales@tapsandsinksonline.co.uk as We do have some of these in store but do not have directly for Sale on the website as it is Old Stock.
While we check every spout carefully before dispatch, on very rare occasions Spouts can come with very minute flaws (watermark or tiny marks) in the finish. This is reflected in the marked down price of these Spouts.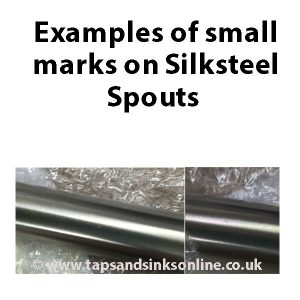 .
This is a Genuine Spare Part.
Parts might be modified by the manufacturers as part of their continual improvements.

We cannot always guarantee that a part will fit an older version of a product. All spare parts that do not fit can be returned for a refund excluding shipping costs.
Shipping Information - (in Brief - see links below for more detailed information).
Spares Parts: Minimum of £4.50 Royal Mail First Class 3-5 days to Maximum £6.00 Parcel Force Track & Trace , Signature Required, 2 - 3 days after dispatch day, but please allow for delay. Click here for more information about all Shipping here.
Please note that these shipping times apply to Mainland UK Only. Please refer to our Shipping / Returns section for other destinations.