Description
Bluci Cigno Tap Valve
Check which Valve is in your own tap before removing.
You need to use the correct sized tool or socket as otherwise you might damage the shape of the valve in your tap and be unable then to remove it (you might round the edges if using wrong tool and render it impossible to grip then with the correct tool). When your Tap was first produced the manufacturer used a valve which had 2 flat sides on the nut (SP3308 (aka 3308R). This Valve has been discontinued and the manufacturer now uses a very similar valve with a six sided nut, SP3794 (aka 3794R). The Hot and Cold Valve are not interchangeable: The Hot opens clockwise and the Cold opens anti-clockwise.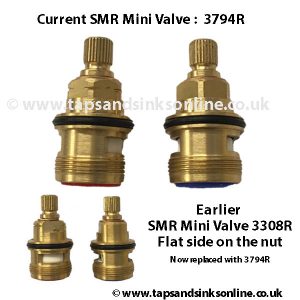 Depending on when your Tap was produced you might have either the earlier 3308R or the later 3794R Valve in your Tap. Why is this relevant ? Some customers have reported difficulty removing the earlier 3308R valve. You can try a mechanics long socket and ratchet tool to remove the Valve from this Tap, or a 12mm spanner, OR We have a specially designed SP3308 Valve Removal Tool from the Tap Manufacturer to remove the earlier 3308R valve. This Tool will NOT remove the later 6 sided valve 3784R. The later Valve 3794R, can be removed with a spanner or a size 14 Hex Key. Removing your own Handle will tell you WHICH valve you have. Here is our Guide How to remove the Handle on your Kitchen Tap. Check before Ordering the Tool because you might only require this Tool if you have the earlier SP3308 (aka 3308R) and you cannot remove this SP3308 with your own Tools. Valve Removal Tool For removing the SP3308 Valve that has a nut with two flat sides.
Here below is example of the later valve 3794r (SP3794) which is now the replacement for the SP3308(3308R). If your own valve inside your tap has these 6 sides, then the removal tool will NOT be of any use so do NOT buy it.
Be careful not to force any tool on this valve and thereby damage it so much that you cannot then remove it with the correct fitting tool. Whichever Valve is in your Tap, you will receive the current 3794R (six sided valve) as the replacement as the earlier 3308R Valve has been discontinued. This is a change by the Manufacturer of your Tap (not us). No Brass Bush is required with this Tap Valve.
Measurements:
Height 38mm Diameter at thread: 20mm, Splines: 28 Nut Height: 9mm
Recently we have noticed that the new valve is a little stiffer to push the handle onto. We have reported this back to the manufacturer but they assure us that there have been no changes of any consequence and it is just to do with the tolerance on the machining of the valves. If this does occur we would simply recommend ensuring that your own handle is clear inside of any residual debris and that you push the handle on and off the new valve a few times to loosen the splines slightly. You won't damage your handle. Tightening your valve: We would also recommend that you do NOT overtighten this valve. As a rule of thumb, tighten as far as physically possible by hand, and then tighten 1/4 turn with an adjustable spanner.
The Hot and Cold Valve are not interchangeable as the Hot opens clockwise and the Cold opens anti-clockwise.
Here is our Guide: 7 easy steps to replace Kitchen Tap Valve.
If your Bluci Cigno Tap Valve is dripping where the Tap Spout meets the Base you might need to replace your Bluci Cigno Tap O Ring Kit.
Parts might be modified by the manufacturers as part of their continual improvements. We cannot always guarantee that a part will fit an older version of a product. All spare parts that do not fit can be returned for a refund excluding shipping costs.
Shipping Information:
We ship from Ireland. DPD have notified us that they are experiencing shipping delays in GB due to Brexit (Customs). They currently advise us that these delays are temporary. However, as per the Large Popup notice on our website that is there until you Dismiss it, you should allow a minimum of 1-2 weeks delays for your order to be cleared by customs. This backlog is due to the volume of goods now going to /from GB that have to go through Customs from January 1, 2021 due to Brexit. It is outside of our control. (There will be no extra or hidden charges with your order). For very small items such as grub screws and O Ring Kits, we will post (again allow some delays) and refund the excess shipping charge .
We intend that Brexit will have no financial impact on our customers.
For further details please see our Brexit section here.
Spares Parts: For Mainland GB / N.I and ROI, Minimum of £4.50 to maximum of £6.00 with DPD 2-3 working days (excluding the impact of Covid-19/Brexit Transition). Click here for more detailed information about all Shipping & Returns.
For UK Offshore Islands:
We apologise for any inconvenience but we are currently only shipping to England, Scotland, Wales, NI and ROI, excluding any Isles.
We are currently not shipping to Channel Islands, Isle of Man or any Isles.