Description
Franke Venician Tap O Ring Kit SP3790
This Franke Tap replacement O Ring Kit originally contained two black seal O Rings, one white plastic ring and a grub screw. Recently the manufacturers have included an additional smaller white ptfe o ring, for stability.
Which Tap do you have ?Franke Venician Tap (from April 2011) or the Phoenician Tap?
.
We have found that Customers mix up the two Taps as they are so similar in style but they take different Parts.
To illustrate how similar these two Taps look, here is a picture of the Franke Venician Tap (it is the Tap on the left in the picture) and the Phoenician Tap is the Tap on the right in the picture. You will note though that the handles are slightly different and this might also assist you.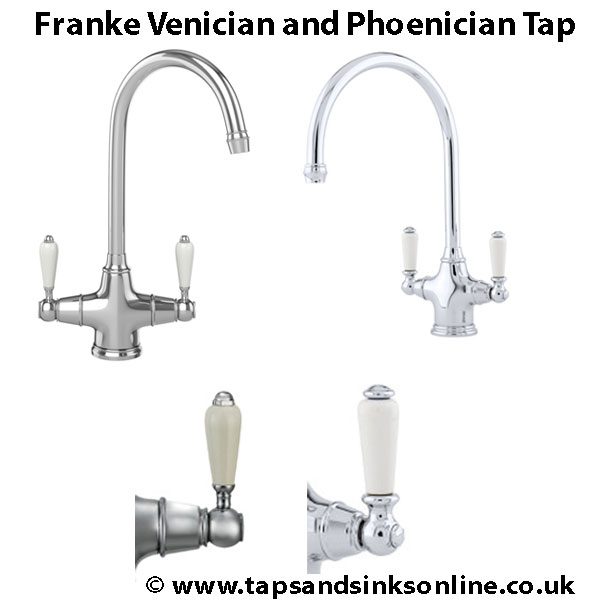 This is a Genuine Spare Part.
Parts might be modified by the manufacturers as part of their continual improvements. We cannot always guarantee that a part will fit an older version of a product. All spare parts that do not fit can be returned for a refund excluding shipping costs.
Shipping Information:
We ship from Ireland. DPD have notified us that they are experiencing shipping delays in GB due to Brexit (Customs). They currently advise us that these delays are temporary. However, as per the Large Popup notice on our website that is there until you Dismiss it, you should allow a minimum of 1-2 weeks delays for your order to be cleared by customs. This backlog is due to the volume of goods now going to /from GB that have to go through Customs from January 1, 2021 due to Brexit. It is outside of our control. (There will be no extra or hidden charges with your order).
We intend that Brexit will have no financial impact on our customers.
For further details please see our Brexit section here.
Spares Parts: For Mainland GB / N.I and ROI, Minimum of £4.50 to maximum of £6.00 with DPD 2-3 working days (excluding the impact of Covid-19/Brexit Transition). Click here for more detailed information about all Shipping & Returns.
For UK Offshore Islands:
We apologise for any inconvenience but we are currently only shipping to England, Scotland, Wales, NI and ROI, excluding any Isles.
We are currently not shipping to Channel Islands, Isle of Man or any Isles.