Description
Franke Venician Tap Valve
The Franke Venician Tap Valve 3984R (formely know as the 1212R valve)
Measurements 
Height 50mm / Diameter at thread 21mm / Splines 20 / Nut Height 8mm
Which Tap do you have ?Franke Venician Tap (from April 2011) or the Phoenician Tap?
.
We have found that Customers mix up the two Taps as they are so similar in style but they take different Valves. If you do not have your Franke Installation Guide and are unsure of the date then the definitive way to establish WHICH Tap you have is to remove your own valve and check it. If it has SMR or San Marco stamped on it, and the measurements correlate to the 3984R Valve, then you have the Franke Venician Tap and you can order the Valves on this product page here.
If your Valve is stamped (Avillion or TCL) then it is most likely that you have the Phoenician Tap and you will find it here.
To illustrate how similar these two Taps look, here is a picture of the Franke Venician Tap (it is the Tap on the left in the picture) and the Phoenician Tap is the Tap on the right in the picture. You will note though that the handles are slightly different and this might also assist you.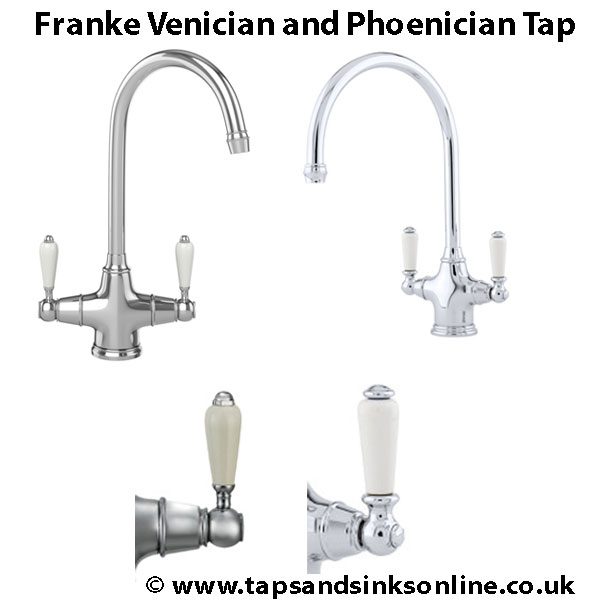 This is a Genuine Spare Part.
Parts might be modified by the manufacturers as part of their continual improvements.

We cannot always guarantee that a part will fit an older version of a product. All spare parts that do not fit can be returned for a refund excluding shipping costs.
Shipping Information : Please allow for Delays outside our control due to Covid-19 - (in Brief - see links below for more detailed information is our Normal Shipping Times if not delays).
Spares Parts: For Mainland UK / N.I and ROI, Minimum of £4.50 to maximum of £6.00 with DPD 2-3 working days. For UK Offshore Islands, please email us sales@tapsandsinksonline.co.uk, as there is an additional surcharge. Click here for more information about all Shipping here.
Please also note that these shipping times apply to Mainland UK, NI and ROI Only. Please refer to our Shipping / Returns section for other destinations.