Description
Carron Phoenix Bali Kitchen Tap Valve 
The Hot and Cold have the same part number but cold opens anti clockwise and the hot opens clockwise.
Earlier Bali Valve had 28 splines – 1427R or 3547R (If your own valve has 28 splines then you will roder the 1427R from us, which is the recommended replacement to use as per the manufacturer of this Tap. The 1427R is a two threaded valve with a white seal. The 3547R valve is a one threaded valve with a blue / red seal. Please remember that should you have the one threaded 3547R then the replacement valve will look different. We have pictures below plus in the gallery of both valves for you to see.
Later Bali Valve has 20 Splines – 3819R.
We would recommend, if you don't have your own Installation guide specifying which Valve is in your own Tap, we would recommend removing the handle at a minimum and checking the visible splines there prior to ordering. the guide above will take you through the steps to remove a handle (size 2mm allen key required). There will be either 28 splines or 20 Splines visible once handle is removed. If in doubt, email a picture to sales@tapsandsinksonline.co.uk

Here are both 28 spline valves used in this tap (in which case, select 1427R (4276R) as your replacement (as recommmended by Bali Tap manufacturer).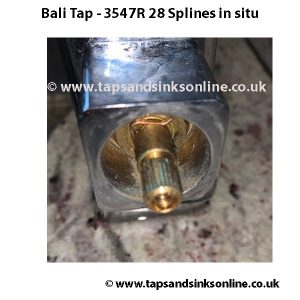 Here is later 20 spline option
When you remove your handle you will find that the 3819R Valve is covered with a brass handle insert (round brass disc covering top of the splines) which you will unscrew to reuse when fitting new valve
When removing the valve, sometimes the Bush 3886R comes out stuck to the valve. If this happens you will need to separate your bush from your valve to re-use the bush with the new valve. If you cannot do this i.e. they are stuck together, then you will need to order a bush 3886R

---
Detailed Shipping / Returns information can be found here.
In Brief:
Small items only by Post:
£2/£3
Courier Delivery DPD Track & Trace:
£5
BREXIT: No additional charges on delivery once your Order before shipping charges is less than £135.