SMR is stamped on valve
and usually a date stamp e.g 01/2013 although some earlier models used number codes as well (Please note that earlier Valves have San Marco stamped on them but whether SMR or San Marco, the same valves apply).
These numbers / dates is not sufficient to identify which SMR valve you have.
If you send in a picture of your TAP we might recongise and identify WHICH San Marco / SMR valve you have, but the more information you can send at the same time, the quicker it is for us to identify which Spare Tap Part you need.

 
If not, then we would need to see pictures of the Valve itself plus the measurement of the Valve from Top to  Bottom (Brass).  Note: please ensure that you try and take as accurate a measurement as possible. We frequently get pictures of the valve beside a measuring tape but this means that we are still trying to guess the height.
See below for the most common SMR valves that you can check your own valve against once you have removed your own valve and taken the measurements.
Usually your Kitchen Tap is dripping from either (1) the spout or (2) where the spout meets the base.
If it is dripping from the Spout then it is most likely that you need to change the valves (one or both) and / or the brass bush ring (but usually its just the valve) hot or cold.
If your tap is dripping where the spout meets the base then it is likely that you need to replace the O Rings (see below for O Rings).
We stock all San Marco Valves (unless the Valve has been discontinued).
In order to identify which San Marco Valve you have that needs replacing we will need you to EMAIL the following to us:
1. 4 measurements
2. Picture of your Kitchen Tap showing full tap i.e. spout, body etc
Here are the 4 most common measurements :
San Marco Valve Blueprint
Length of Valve from top to bottom (brass) in mm
Diameter at thread: in mm
Number of splines – always an even number, e.g. 20, 28…
Nut (below splines) Height: in mm
Here is our Guide to assist you in removing your valve: 7 easy steps to replace kitchen tap valve
Please make sure that when you have removed your valve, that the brass bush wasn't removed as well (this surrounds the valve inside the tap) and you will need this for the new valve. If you find it impossible to separate the two we do supply brass bushes as well for San Marco Valves. For more information on removing the brass bush, see here.
The picture of your tap will help us identify which O Rings you require.
Don't forget to also email us a picture of your Tap. Email all details to sales@tapsandsinksonline.co.uk
Here are the most common SMR Valves

And this link here to more valves: Kitchen Tap Valves
How to tell a Hot Valve from a Cold Valve – Some Valves have blue or red indictator underneath to distinguish hot from cold, but if both valves have a white indicator underneath: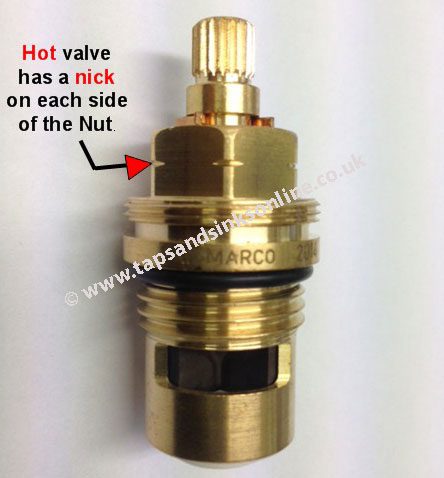 Its very simple to distinguish between the Hot and the Cold San Marco 1/4 turn valves:
The Hot Valve has a nick on every side of the nut whereas the Cold valve doesn't.
Please note that parts might be modified by the manufacturers over the years of a product being made. Therefore while we can guarantee that the parts we supply are as per the technical specifications sheets provided by the manufacturers, we can not always guarantee that a part will fit an older version of a product. All spare parts that do not fit can be returned for a refund but we do not refund associated postage costs.