Description
The Florence Antique Kitchen Tap Handle 3701R
Antique Kitchen Tap Handle 3701R available in two different finishes – Chrome or Brushed Nickel and has a rounded tip detail.  If you want the later, flatter tip style, please go to part 1248R here.
When selecting the finish please also select whether you want the Hot or Cold Indicator to be as the written word .e.g 'Hot / Cold' or in Letter form 'e.g. H or C.
Please note that earlier versions of this handle are more round and later versions are flatter at the tips.
While the same product code 1248R has been used on installation guides
whether the handle is rounded OR flat tipped
, we are using the code 3701R for the 'round' version of this handle, and 1248R for the later version of this handle with the flatter style tips to distinguish both styles. The earlier 'rounder tip' style version is only available in Chrome and Brushed Nickel.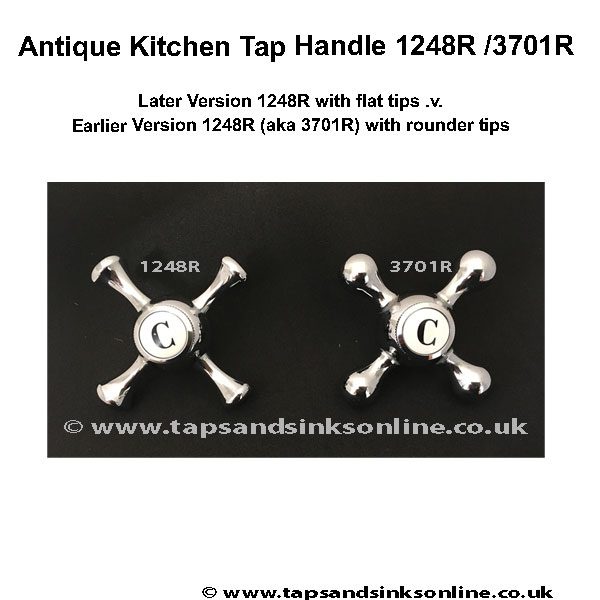 Parts might be modified by the manufacturers as part of their continual improvements. We cannot always guarantee that a part will fit an older version of a product. All spare parts that do not fit can be returned for a refund excluding shipping costs.
We ship from IRELAND so please see below for SHIPPING TIMES (by Post or Courier) before you place your Order to avoid any misunderstandings regarding estimated arrival date for your order once dispatched.
POST COST: For very small items: Screws, O Ring Kits, Aerators & some Bushes, we Post (£2/£3.50). This is NOT trackable.     Where we Post, and you have been incorrectly charged Courier Rate £8/£10, we will refund the excess shipping charge to you. Some Parts cannot be posted e.g. Valves.
POST DELIVERY TIMES - Getting slower to GB post Brexit & pre Christmas:
ROI / NI: Approx 2 days delivery by Post in ROI and can vary in NI (please allow for at least 1 week)
Great Britain: Unfortunately there is no such thing as first / second class mail in Ireland. There is just 'standard' post. Our current experience is that it is taking approx 2-3 weeks for goods to arrive in Great Britain by Post. But we are having reports of it taking even longer than this. This is outside of our control and the backlog appears to be due to customs clearance for all items creating a backlog, slowing down all inward parcels and post from EU.
COURIER DELIVERY TIMES Track & Trace (£6/£8) & we make no profit from these charges):

ROI / NI: Approx 2 days delivery by Fastways but it can occasionally take longer.

Great Britain: Average shipping time with DPD is approx 1 week (but can take longer) .
Please note that delivery times with DPD UK for goods shipped from Ireland are slower than DPD within Great Britain. Brexit means that all goods coming into Great Britain have to clear Customs and this has added delays to the process. Our current experience is that goods shipped with DPD UK currently take approx 1 week to be delivered, but it can occasionally take longer. We can provide tracking numbers if required. Click here for more detailed information about all Shipping & Returns.
Not shipping to UK Offshore Islands:
We are currently only shipping to England, Scotland, Wales, NI and ROI. We are currently unable for logistical & customs reasons to ship to Channel Islands, Isle of Man or any Isles off mainland GB. All we can suggest is that you might be able to have the Order shipped to GB and from the there get it shipped on to your own address if it is one of the destinations that we currently do not ship to.
BREXIT: Brexit will have no financial impact on our GB customers once your Order is less than £135.

There will be No Vat on Imports, No Customs Charges, No extra or hidden charges once your Total Order is less than £135.  We will remind you again about this at the Checkout stage before you complete (pay) for your Order.  For further details please see our Brexit section here.