Note:  At the end of this blog are links to all the Spare Parts referred to throughout the Blog for ease of reviewing / purchasing.

3 main causes as to why your Franke Olympus Tap dripping :
1. Franke Olympus Tap dripping from the Spout:
Most likely you need to change the valves (one or both), and / or the brass bush ring, (but usually its just the valve) hot or cold.  This Blog Post How to tell which Valve needs replacing : Hot or Cold? might help
2. Franke Olympus Tap dripping where Spout meets Base:
Most likely that you need to replace the O Rings.
3. Franke Olympus Tap leaking from the handle:
Valve may need replacing. Here is our Guide How to remove the Handle on your Kitchen Tap.
If the valve bush comes out with the valve, order a new set of valve and valve-bush.
If you have replaced the valve :
remember new valves can take a few days for the rubber washer to "be bed down". Tighten the valve manually and only use a wrench for the last quarter turn so as not to damage the seals on the Valve.
If leak continues after tightening please contact us on sales@tapsandsinksonline.co.uk.
Valve Details:
Hot and Cold valves are NOT interchangeable. A Hot Valve opens Clockwise.  A Cold Valve opens Anti-Clockwise.
If you have the Franke Filterflow Olympus Tap then the same Cold Valve is used in both the Cold 'mains' and Cold 'filtered'.
Tip: Franke Olympus Filterflow :If your water is dripping from the Cold side and you don't know whether it is the Cold Mains valve or the Cold Filter Valve that needs replacing, try the replacement valve in one of the cold sides and if drip continues switch. If drip still continues then you either need 2 Cold valves i.e. both need replacing, or the drip is on the Hot Water side.
We only stock the Franke Olympus Tap spare parts 'currently' being used in the manufacture of the Franke Olympus Tap, Franke Olympus Filterflow Tap ,Franke Olympus Side Spray and Franke Specialist Spring Tap as per the current technical specifications (1427R/3561R).
Here are the measurements of the Valve that we stock 1427R / 3561R (4276R) as we supply the original version of this with the white seal underneath as the Olympus Tap was modified c.2011 and by supplying the original valve with larger white seal, then irrespective of the age of your own Olympus, you will receive a part that will work. Later Olympus Valve with coloured seal is flatter and is only for post modified Olympus Taps. We call this earlier valve 4276R to distinguish from later same coded valve with the flatter seal:
Length of Valve from top to bottom (brass) 53mm
Diameter at thread: 21mm
Number of splines: 28
Nut (below splines) Height: 8mm
* all 'mm' measurements are rounded to the nearest mm.
There are two sets of threads, one above the Black Rubber O Ring and one set below.
Brass Bush still attached to Valve:
If your valve appears to be wider than ours but all measurements tally except diameter, just make sure that you have removed the brass bush. For more information on removing the brass bush, see here.
There have been 3 different Franke Olympus Brass Bush.  We stock two of them.
We do not stock the very earliest one (thin lip / ridge at the bottom) in which case , all that we can recommend is that you try to separate in order to re-use.  Here is close up detail of the old Franke Olympus Valve inside this Bush that we do NOT stock.
Franke Olympus Brass Bush that we stock (if in doubt, order the one with Recess but to be 100% sure, remove your own Valve prior to ordering):

Franke Bush with lip (less common than the one with recess and used for just one very early phase of the olympus tap)

Franke Bush with recess (most common)

If your own valve looks like this :
If your own Valve looks like this image below, then you need to order the SP3561 plus Brass Bush with lip SP3886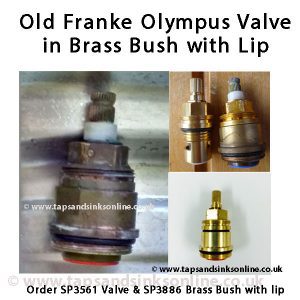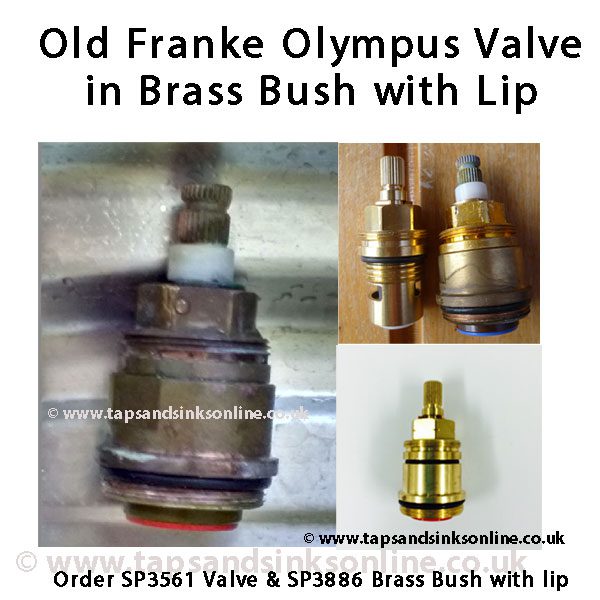 If your own Valve looks like this below – order SP3561 and SP3868 with recess. :

[/one_half] [/one_half]
O Ring Details:
Franke Olympus Tap O Rings (1425R) Franke Olympus O Ring Kit is suitable for the Franke Olympus Tap, the Franke Olympus Side Spray Tap and the Franke Filterflow Olympus. The Franke Specialist Range Olympus Spring Tap requires a different O Ring Kit can be purchased here:
See here for all our Franke Olympus Spare Parts (Valves, Brass Bush, O Rings, Handles, Spouts and Aerator).
For common Kitchen Tap problems, see our Kitchen Taps Troubleshooting Guide here.
Our Blog / Plumbing Guides section includes tips e.g. how to remove a valve. Follow the links below.
If you have a Franke Filter Flow or Franke Triflow, please see the blog here